Plastic Surgery Patient Care
Plastic Surgery Patient Care
Our faculty members deliver unparalleled outcomes and the most diverse surgical solutions for patients of our region and beyond. As instructors we develop the most balanced and experienced residents and fellows in a crowded field of top performing programs nationwide. The methodology, temperament and precision of our team provides a caring and impactful experience for all our patients.
Each of our sites offers a unique focus and practice area. Explore these sites of care and their scope of practice below.
Center for Reconstructive Surgery at UW Medical Center
Our Team at the Center for Reconstructive Surgery at UW Medical Center understand how important your body is to you. Our mission is to restore maximum form and function for those altered by disease, trauma or congenital deformity. We provide cosmetic surgery options for those who want to transform their appearance. Our surgeons perform complex surgeries unmatched elsewhere. Our team specializes in complex reconstruction involving the head and neck, core and extremities. Our surgeons specialize in using the patients' own tissue preserving muscle and skin. Such procedures enable restored function, sensation and appearance. As a premier reconstructive surgery center for breast and nipple reconstruction, we lead the region in care after mastectomy. Our Center offers lymphedema care unavailable in the Pacific Northwest, much less the west coast. We have assembled the largest team of microsurgeons outside of MD Anderson. Our entire team is constantly focused on researching, developing and applying outcome based science in plastic surgery solutions for all our patients.
Burn and Plastic Surgery Clinics at Harborview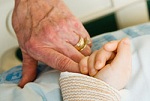 Opened as the Harborview Burn Center in 1974, the
Burn and Plastic Surgery Clinic at Harborview Medical Center
has grown tremendously in practice and capability. Today, not only do we run the plastic surgery burn reconstruction clinic at this location, but also the only craniofacial trauma and adult craniofacial treatment clinics in the WWAMI region. We hold three hand surgical clinics weekly and two general plastic surgery clinics which create a concise location for broad plastic surgery service delivery.
UW Medicine—The Hand Centers at Harborview Medical Center, Seattle Children's Hospital and UW Medical Center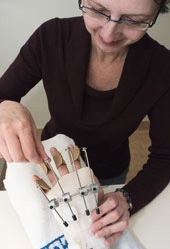 The Hand Surgery
service is truly an equal collaboration between plastic surgery and orthopedic surgery, and our patients benefit from this team's intrinsic diversity of expertise. Headquartered at Roosevelt Commons, this service spans Seattle Children's Hospital, UW Medical Center and also has a significant presence at Harborview Medical Center. Orthopedic residents, fellows and plastic surgery residents seamlessly integrate care for patients with complex hand surgery issues in a unique faculty care and management model.
Pediatric Plastic Surgery Clinic and Craniofacial Center at Seattle Children's Hospital
Plastic Surgery service at Seattle Children's Hospital delivers the highest volume for pediatric craniofacial surgical interventions in the world. Our surgical team, fellows and provide expertise not only at Children's but also in the craniofacial clinic at Harborview. Solutions for brachial plexus intervention, cleft lip and palate, and surgical intervention of congenital anomalies are offered from the most experienced and innovative faculty in the nation.
Aesthetic Surgery Clinic at Northwest Hospital
Our newest and most exciting feature is the clinic at Northwest Hospital. Two of our microsurgeons from the Center for Reconstructive Surgery share a two day clinic at Northwest Hospital.   Cosmetic services are offered in clinic and general reconstructive procedures in the outpatient surgery center.  Our residents participate in delivering these unique services in a much more casual environment for our patients.
Plastic Surgery Clinic at UWMC:
University of Washington Medical Center Surgery Pavilion
1959 NE Pacific Street, Box 356165
Seattle, WA 98195
Phone: 206-598-7689
Burn & Plastic Surgery at Harborview Medical Center:
Harborview Medical Center
8th Floor, East Hospital
325 Ninth Ave, Box 359835
Seattle, WA 98104
Scheduling Coordinator: 206-744-5735
General Phone Number: 206-744-5735